Free Resources
As a working parent, you may not have a lot of free time but here at Limitless Coaching, the home of Creative Career Solutions for Parents – I have considered your time pressures and varying commitments in creating useful content for you.  From newsletters to podcasts, there's always something you can access, even if you just have a 5-minute window.
A big part of my mission is to add value to the lives of people in my life and this community… and one of the ways I do this is to creating and curating quality content that can positively contribute to your aim of being the mum (mom) / dad you are proud of and creating an awesome professional life and a personal life you cherish. Oh… and all of this with minimal mum-guilt. That's important here…
Here are some resources I've created just for you so get stuck in:
The Creative Career Solutions for Parents mailing list is the place to be for first glimpses of blogs and videos, inspirational, motivational and actionable content as well as exclusive information and offers in relation to programmes I launch, designed to support you.
This is the place to be for easy discussions / thought sharing in response to podcasts, articles and other created and curated content from Limitless Coaching. Oh… and an increasing amount of often impromptu Facebook Lives too. Like the page for an easy way for us to connect.
Launched in late January 2017, the Creative Career Solutions for Parents is becoming the place for working parents to hang out. These are bite-sized podcasts for busy parents and you're welcome (no… encouraged) to check it out on iTunes 
I use Instagram for a mix of the personal and the professional so if you want a mix of inspirational quotes and parenting discoveries, let's connect there.
I asked my community what they felt they could most benefit from and while there was a huge spread of responses (so more fun freebies and wider content coming up!) – the most popular idea was a work life balance cheat sheet so here it is! Sign up here…
I love a good freebie… don't you?! Free is great, and I am so proud of the podcast, mailing list and social network presence which have been created to give you access to resources to support your journey as a working parent. Dig in and enjoy… oooh, and don't forget to let your fellow working parent friends know that there's a hub here for them.
However, I want you to know that beyond these goodies, if you are ready to invest some time, effort and money into your desire to enjoy, embrace and excel in your journey as a working parent, then step on over to the products and coaching pages where you will find out more about existing and forthcoming opportunities including a membership club, online group coaching programmes.
If you're at the stage where you're complaining about your career and parenting / work life balance but not ready to do something about it, this won't be for you. If however, you reach a stage where you need some real clarity with your goals, want to work towards your vision, suspect that where you are now and where you want to be is more distant than is beneficial for someone with hopes, ambition and plans like yours… then contact me about how we can work together to accelerate your process in a challenging and supportive environment.
Other ways to work with me: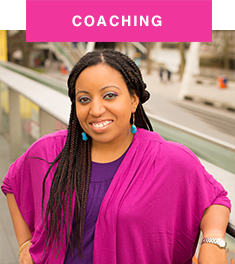 "I feel so powerful" was the exclamation of a client of mine as we came to the end of a one on one coaching session. It was an awesome moment but is no surprise. Coaching is for high achievers who want to up-level while being challenged and supported. It's not just for the rich and famous like Serena Williams, Andre Agassi and Oprah – it's also for ordinary people with extraordinary visions for their lives.